Drives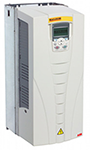 Electronic drives have redefined the way industry controls the systems needed to satisfy our demands. Whether you need manual speed control or continuously monitored energy efficient adjustments to your air delivery system, the electronic drive can get the job done. Automatic positioning or motions can be accurately controlled through the application of AC & DC servo controls, vector-less or vector drives, PLC controlled feedback loops or simple PID feedback loops for control of constant pressure or flow; all things are possible through electronics.
Your drive pre-dates electronics? We have no doubt seen one just like it before! Eddy current or adjustable 
brush-shifting motors – we can do it. Simplex or duplex pump controls – no problem.
Call Gem State Electric for all of your control needs.