Generators
Not all generators are created equal. Your needs can vary widely so we offer a wide variety of solutions.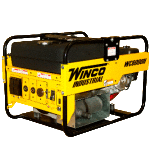 From small portable generators to large skid mounted primary power sources we can help you select the perfect generator for your application. All generators require a driver (prime mover) and are available with a multitude of options covering the gamut from gas, diesel, LP, propane or tri-fuel. We have even found sources for wind and water powered generators. We are proud to offer the Winco line of generators, ranging in sizes from 3KW portables to 350KW Industrial Diesel Liquid Cooled units supplying primary power.
We supplement this offering with generators by:
Aksa   (9 KW-2000 KW)
VoltMaster (2.5 KW- 130 KW)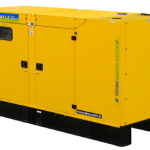 Two bearing or PTO, tri-fuel or gaseous we've got what you need.
We also offer Automatic Transfer switches up to 400 amp ratings.
Options are no problem either. Winco offers a complete line of generators with all of the popular options. Trust us with your generator needs. We will find the right unit for the right price.